Read the NPCs dialogues, pls
Staff member
Game Editor
Joined

Oct 1, 2020
Messages

50
Points

33
First of all, I would like to
apology
to PWO Community for the delay in 2021 Halloween Event. Most of the delay was due the complexity of the multiple quest pathways. Besides thats, I've been really busy with some appointments during the weeks before October 31st, which meant that I had limited time to work on the scripts. Anyway, I hope all of you can apologize me for taking more than 2 weeks to release this event.
Let's get into business!
---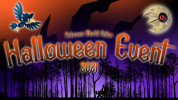 Greetings, Trainers!
Shortly before
Halloween
, I became aware of rumours of a strange affliction affecting a town somewhere in the outskirts of the Pokémon World. However, it wasn't until many weeks later, when a mysterious letter arrived at our office, that all of us in the PWO Staff realised the rumours were more than just myth.
From what we've been able to determine, deep in a forest far from mainland Kanto and Johto, there is a town called
Grimewood
. Despite the small population and isolated nature of the town,
Grimewood
has been able to make a name for itself thanks to its small library, good trade links with Sinnoh, and being adjacent to a forest where an unusual fruit grows from a single tree. In fact, it appears the Town has even now attracted the attention of a wealthy developer!
But disaster has struck! Somehow the town has fallen victim to a mysterious disease which is causing its residents to fall into a
deep slumber
and experience
horrendous
nightmares
. Even the mayor has been affected! Those residents who are still awake are scrambling to figure out the cause of this unusual illness, but as yet they have not found the cause.
Maybe you can help out? The PWO Staff have been able to convince two train operators (Event Transport NPCs), one at
Viridian City
and one at
Cherrygrove City
, to operate a special train service to transport brave Trainers to
Grimewood Town
. The Vice-Mayor is a little worried about tourists in case they also get afflicted, but if you're up for helping to solve the mystery and free the townsfolk from their anguish, I'm sure he'll be happy to have you!
ADVANCE WARNING:
There are
multiple pathways
in this event. Decisions you make at various points
may influence later content and the overall ending you receive; and may also impact your final reward
. A
Reset NPC
will be provided to allow you to change your mind and restart the quest from the beginning if you feel you are not liking the path you have followed. You can reset at any time up to the moment of receiving a reward, but
once you have claimed any reward from the event, the quest will be completed and will no longer be possible to be restarted
.
This event
started at 19/11/2021
and will run for 21 days,
ending at 10/12/2021
.
Happy Late Halloween from all PWO Staff! ~
Moves Tutor and Special Items Seller NPCs will be added later. Hold your money and quest items!