Content maker
Game Editor
Joined

Sep 23, 2011
Messages

1,459
Points

63
Website
Merry Christmas to all, and a happy holidays to everyone.
Genevieve invites you to her town in celebrations of the year come to past.
2021 was not easy on most of us, but to see it off, Gen has invited you to come and spend some time in NorthBell, the continents most northern town where her and her husband 'Nicolas' reside.
Old Nicolas works as a toy maker, and could be considered be "short" staffed. But as his frantic year has also come to an end, I'm sure you can help him clean up some of the mess left behind in the NorthBell Forest. Just as an optional favour to him and his wife for your stay if you would like. Gen did mention that there is a craftswoman that will reward such deeds deep in the forest.
Come in, drop by, say hello. Pull up a seat and try some ice fishing if it takes the fancy. You can find your way here through a fridge in Goldenrod city House, and Celadon city House. Just walk into it like a door, it won't hurt trust me though might be cold. Though do remember to use /ref, sometimes it acts weird.
We hope you enjoy your stay.
This event will last from 24th Dec - 16th Jan.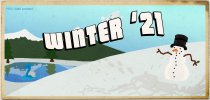 Last edited: