Joined

Aug 14, 2015
Messages

102
Points

63
Hello fellow trainers, I've come here to talk about the phenomenon known as trading. But first, please indulge me for a few moments and partake in this little game I like to call, "This Price is Alright." In this game, you will be given a list of Pokémon and items. With each individual Pokémon or item(s), you will record what you believe is a reasonable amount someone should buy/sell them for, in Pokédollars (Pd).
Sound easy enough? Feel free to keep mental notes, but I suggest using some note-taking device as you'll be needing to add some of them up.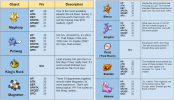 Did you get all the totals down? Alright, now let's evaluate a mock trade.
On the left, we have S Walrein. On the right, we have S Magikarp, S Poliwag, and S Magneton.
S Walrein probably blows those right-side Mons out of the park, right?
Alright, let's add Staryu, S Kingdra, and slap a King's Rock in there for good measure.
Still not enough you reckon?
Ok then, let's add S Shellder into the mix and grab a single Trick Room TM for our troubles.
Does that seem like a fair deal to you?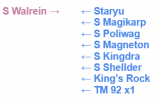 Yes? No? Maybe so. Well, I hate to break it to you. This trade obviously didn't happen.
However, this one did: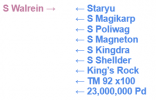 Now, the craziest part is that both trainers came out of the exchange happier and believing they got a relatively good, if not great deal. How is that possible? Well, it's because of one simple principle: "Trade creates value."
When we think about trading in Saffron City or Goldenrod City, what's our mindset? When we're scurrying around in the Union Rooms, neck-deep in conversation, and constantly beating around the bush about price, what's our intention?
To get the best possible deal for me.
There is a fixed amount of Pd pie, and I want as much of that pie as I can get. As the seller, we increase our profit driving the price up; conversely, as the buyer, we reduce costs driving the price down. In negotiation, we call this a
distributive issue
. One trainer's loss is the other trainer's gain. But with that being your MO for trading, you have three main resulting situations:
For the most part, there will be no deal.
You will take advantage of a trainer's lacking knowledge of the trade.
You will be taken advantage of for your inaccurate valuation of the trade.
Now I don't know about you, but the last two situations never lead to long-lasting, healthy relationships with our fellow trainers. How can we try to avoid this? Well, to save you half a year's worth of grueling lectures, we search for mutual gains which cannot be independently achieved. Take the trade of mine above for example.


I posted S Walrein for 35m Pd on the Playerdex Mart. Some trainers may have posted it for 50m+, but 35m was how much value the S Walrein brought to me at the time. Nonetheless, no bites and not even a nibble on the Mart. With the desire to acquire a large sum of funds for hosting future Unofficial Events, I was debating whether to drop the price even lower. Luckily for me, a passing Quagsire took interest in the pink walrus. He explained that although he didn't have the necessary funds to purchase my Walrein at the hefty 35m price tag, he'd be willing to throw in some "other assets." And assets, Fisherman Isguros, most certainly had. While surfing through the aquarium he likes to call a PC, I netted a handful of sea life and a charged-up magnet to make up the perceived 12m difference in market price. Based on my perception of values, the whole trade seemed heavily skewed in my favor. To give a ballpark number, while I was willing to sell for 35m, I instead got 23m plus tens of millions over in other assets. But from Isguros' POV, I don't think he felt like he lost "tens of millions over in other assets." Sure, that's what they might cost on paper but does he really care about a hundred TM 92s or one S Magikarp out of the hundreds in his tank? HP Fire Magneton, HP Electric Magneton, it may as well be all the same to him. Even if he believes I got the better end (which I did thanks to his goodwill), I'm sure he values the Walrein at more than 35m since he's a Fishing Guru. While we cannot pinpoint Isguros' exact valuation of having a S Walrein in his collection, we will categorize that obscure value as giving personal utility.


The concept of trade defies the logic of science and physics. The law of conservation of mass and energy, simply speaking, states that matter and energy can neither be created nor destroyed. A million Pd going in, a million Pd coming out. But not when we trade creatively with our integrative mindset. A million Pd going in can result in a million Pd out plus a S Shellder, S Kingdra, a King's Rock, et cetera, et cetera. To point out one recent sale. The S Shellder I recently obtained was bought by Kingstone for 12m. I got my 35m and some extra Mons, Kingstone has a max speed Shellder that probably should've been priced higher, and Isguros is laughing maniacally for taking advantage of my inaccurate valuation of the trade. Ah shucks!

Last edited: